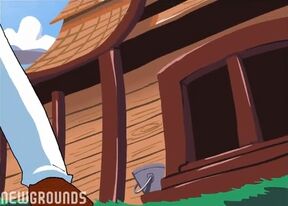 The Dojo is a location in the Girlchan in Paradise series. It is where the G-Fighters faced the Burning Man in Episode 2. It has a bucket of water out in front.
After the events at The School, Kenstar and the rest of the G-Fighters find themselves at a dojo. Kenstar points out a bucket of water, and Yusuke says they are not defeating thirst. Kotomaru disagrees, and the Burning Man interrupts.
It is assumed Burning Man lives here, but it is not clearly stated.